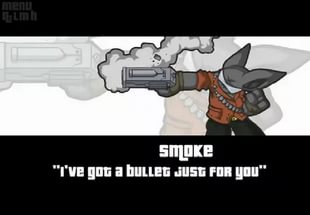 "Tengo una bala sólo para ti"
El humo es un conejito gris que es un aliado y un enemigo de la bola de nieve . En la primera , segunda y quinta película, es un enemigo y en el tercero, ayuda a Snowball por razones desconocidas a pesar de haber sido asesinado por Snowball previamente. Como el polvo , el humo es un personaje reoccuring. Utiliza diferentes tipos de armas como armas, espadas y sables de luz . Se sabe que el humo es como la bola de nieve, no teniendo ningún jefe oficial que acaba de ser contratado por las pandillas para ayudarles o algo.
El humo no aparece en la cuarta película.
Ad blocker interference detected!
Wikia is a free-to-use site that makes money from advertising. We have a modified experience for viewers using ad blockers

Wikia is not accessible if you've made further modifications. Remove the custom ad blocker rule(s) and the page will load as expected.