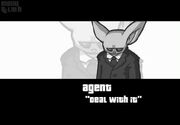 "Deal with it"
Agents are the hitmen and one of the special soldiers of the army. They are proven to be slightly stronger than minions and are armed with only pistols. Agents appeared in Bunny Kill 2 and in Bunny Kill 5. The agents in Bunny Kill 2 only wear dark green shirts and dark pants but in Bunny Kill 5, they wear suits. They wore shades in both episodes. In Bunny Kill 2, the agents served as bodyguards for Dust's office where when Snowball entered the room and obtain a katana, a large group of agents entered in and tried to kill him. In Bunny Kill 5 part 2, the agents drove on black cars towards and helped Smoke chase Dust on the street.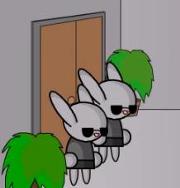 Ad blocker interference detected!
Wikia is a free-to-use site that makes money from advertising. We have a modified experience for viewers using ad blockers

Wikia is not accessible if you've made further modifications. Remove the custom ad blocker rule(s) and the page will load as expected.